Newsletter - February 2014
Kat Mechatronics Factory and Administration Building...
Kat Mechatronics Factory and Administration Building, which is being rapidly constructed in Çatalca Free Zone, is architecturally designed to keep the structure's building performance and the user comfort at a maximum along with engineering designs about physical environment control and energy modeling. The ground and basement constructions of the building have been completed accordingly and the construction of other floors continues rapidly.
Electric and mechanic subcontractor firms of the factory have been determined. The heat energy and types and amounts of solid wastes produced by locations in the factory during the daily production cycle have been handled with approaches to support the mechanic system and used as a parameter to create the floor plans.
Negotiations continue to determine the automation firm to optimize the cost of business.
The shell stratification, front occupancy and clearance ratios, locations and directions of sun control units have been determined according to the data conducted from energy modeling. New generation construction materials such as zinc and aluminum which have low costs of business and maintenance were preferred and negotiations are going on with exterior design firms for the envisagement.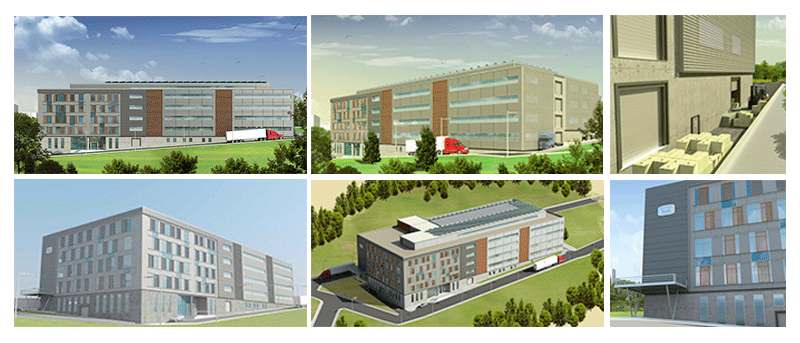 Polaron Dye Production
Management Buildings...
A modern architectural approach has been aimed for the project of the factory located at Gebze Plastics Manufactures Organized Industrial Region and the rough building is still continuing. The project takes place on an area of 6.500m2 and the management section will be built of reinforced concrete while the manufacturing section will be precast. The Architects Ahmet Önder- Dilara Tekinwill realize theproject design, the project appliance management will be held by Master Architect Oğuz Bayazıt and an automation of 80% during the appliance is being targeted.
Fire systems and solutions in accordance with Turkey Fire Regulations and NFPA standards and a totally closed production system will be used during the appliance of the project. Having a sample-building specialty with its electrical-mechanical solutions and safety solutions, the project continues according to the world standards and has an effective budget planning.

Baku Mansard 207 Project
It is an Office and flat project located at a penthouse apartment on the newly developing beach band of Baku.
The design aims to provide the local office and home comfort together for accommodation in a business trip and working/meeting organizations.
Thanks to its mechanical and electrical infrastructure, the apartment is decorated with a scenario to be easily prepared for accommodation when necessary.